OUR APPLICATION PROCESS
This page gives you all the information you need to have the best chance of success. From an overview of the recruitment process to tips for every stage and FAQs, everything you need to know is right here. Good luck!
APPLYING AT NEWTON
The recruitment process for our graduate consulting roles is designed to showcase life at Newton, as well as get the very best out of you.
It could take as little as a week to become part of the team
Receive useful 1:1 feedback at the latter stages of the process
No cover letter or CV necessary to apply
Hybrid process for you to get the best out of being virtual and meeting us in person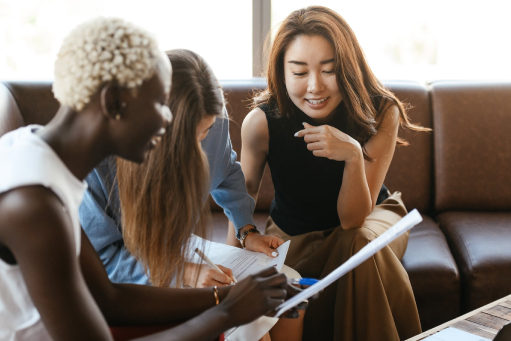 UNDERGRADUATE SUMMER OPPORTUNITIES
A chance for students to develop the skills needed to thrive in business consulting. This year, we will be running two streams. The Summer Academy – Pioneering Potential Programme for students from a lower socioeconomic background, and our Summer Academy to which we welcome all to apply.
Looking for more application tips from the people who've been through it?
FAQS
What's the application process?

Once you have successfully completed our online test, you will be invited to a video interview. Next, we run a selection day where you will be assessed on different skills. If successful, you'll be invited to a final interview with a non-assessed dinner the evening before for you to ask any and all questions to a group of consultants. 

Do I have to send a cover letter or CV when applying?

If you are applying for the graduate role, we do not require a CV or cover letter. If you are applying for the experienced consultant position, you will be asked to send in your CV when you apply.

Does the time that I apply alter my chances of being offered a job?

Final interviews take place from mid-September onwards. Whilst you are not in direct competition with other candidates on your selection days or final interviews, we encourage you to apply as early as possible, as applications will close once the required number of offers have been made. Additionally, we encourage you to apply early to secure a place on a selection day and final interview on your preferred date and location. It'll also allow you to choose your preferred start date as these are allocated on a first come, first served basis.

Do you give extra time on your tests?

Yes, if you require adjustments for the online numerical tests, video interview and selection day, there is a place to state this in your initial application. We always work with candidates who require adjustments to make our tests accessible to all.

Will you cover the travel expenses for the final interviews?

If you need to travel to attend your final interview, we will refund your travel expenses. The process for this will be communicated in the invitation to attend.

Do you provide feedback throughout the application process?

We really appreciate the commitment made to attend our selection day and final interview. We provide specific feedback from the assessors on both days in the hope that each candidate will find this helpful, regardless of the outcome.

What does the final interview consist of?

The night before your final interview you'll be invited to have dinner with a group of consultants and some other candidates. This bit is not assessed, but it's an exciting opportunity to meet some Newton consultants and ask them questions in a more relaxed setting. The following day you will have two 45-minute interviews with senior staff within the company. These will consist of both competency and technical questions.

What is the dress code for selection day?

The selection day is a professional working environment, so we would advise you to dress business smart, although a tie isn't necessary.

How can I prepare for the selection day?

When preparing for the selection day, we recommend you brush up on your numerical skills, like the online tests stage. As well as reflecting on your achievements and why you'd like to join Newton. When invited to your selection day, you will get more information about the different exercises and what to expect.

What happens when I receive an offer?

Once you receive an offer, you'll be sent confirmation and a contract as soon as possible. You'll have a call with a member of the Graduate Recruitment team to run through the contract and answer any questions.. Finally, you'll be invited to attend review days prior to your induction. This is the perfect opportunity to meet other offer holders and Newton employees and stay up to date with what's happening at the company.

When will I find out if I'm successful?

Following your final interview, we aim that all candidates will hear a decision and feedback within two weeks.