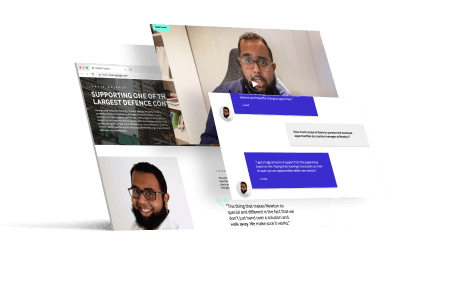 Answer a few quick questions and we'll introduce you to the Newton colleague we think you'll most benefit hearing from.
Question 01/03
What is your specialism?
Digital
Digital
At newton
We want to make data work for the world, realising our passion for creating exciting and compelling outcomes for our clients. Our digital team are making this happen, and we have taken the first steps of what will be an incredible journey.
Operations
Operations
At newton
Our Operations Consultants work shoulder-to-shoulder with clients – from the shop floor to the boardroom – mapping processes, analysing data and looking for opportunities to improve the way they work.
People Centred Change
People Centred Change
At newton
More organisations are looking to us to help them bring about impactful, lasting change. Working together with Digital and Operational consultants, as part of a single team, our People & Change/ Communications consultants focus on the human aspects of change.
Question 02/03
Which industry are you interested in?
Question 02/03
Which industry are you interested in?
Infrastructure
At Newton
We empower our clients to tackle overruns, improve workforce engagement and deliver efficiencies worth millions by aligning their teams behind a shared vision and ensuring everyone involved has the tools they need to deliver to plan every day.
Defence
At Newton
We support the delivery of unprecedented improvements in programme performance and delivery of the nation's next generation of defence through an evidence-based approach that targets and delivers on the changes that matter.
Aerospace
At Newton
We enable clients in the aerospace sector to make huge efficiencies, better engage their workforce and reduce costs significantly by identifying the blind-spots and bottlenecks that really impact on delivery and designing the solutions.
Services
At Newton
We help our clients to think in a new way by focusing on the front line and the customer, challenging anecdote and opinions with fact to uncover the real levers to improved performance. In partnership with the client, we design and implement sustainable solutions which unlock those improvements and crucially reduce costs at the same time.
Manufacturing
At Newton
We help FMCG businesses unlock millions of pounds in savings and sale increases by identifying efficiencies – often buried in complexity - and then implementing them throughout the end-to-end process.
Retail
At Newton
Against the backdrop of a challenging and rapidly changing retail industry, we help our clients to adapt fast and win by adopting new technologies, understanding their customers better and embracing ways of working.
Children's services
At Newton
Working hand-in-hand with practitioners and leaders, we work to improve outcomes for children and families while easing financial pressures and supporting social workers to do what they love most - be social workers.
Adult Social Care
At Newton
We work with stakeholders across adult social care, from the frontline to leadership, to fundamentally change their service with a measurable and sustainable impact on outcomes, staff engagement and finances.
Healthcare
At Newton
We support health organisations and health and social care systems to redesign ways of working and implement measurable and sustainable change that is better for people, better for staff and delivers real financial benefit.
Select one of our industry sectors to read more.
Question 03/03
What is your level of Experience?
4-6 years
7-9 years
10+ years